Bottas takes Turkish GP for 10th career win as Verstappen, 2nd, regains championship lead
Perez makes it a double podium for Red Bull as Leclerc and Hamilton follow in 4th and 5th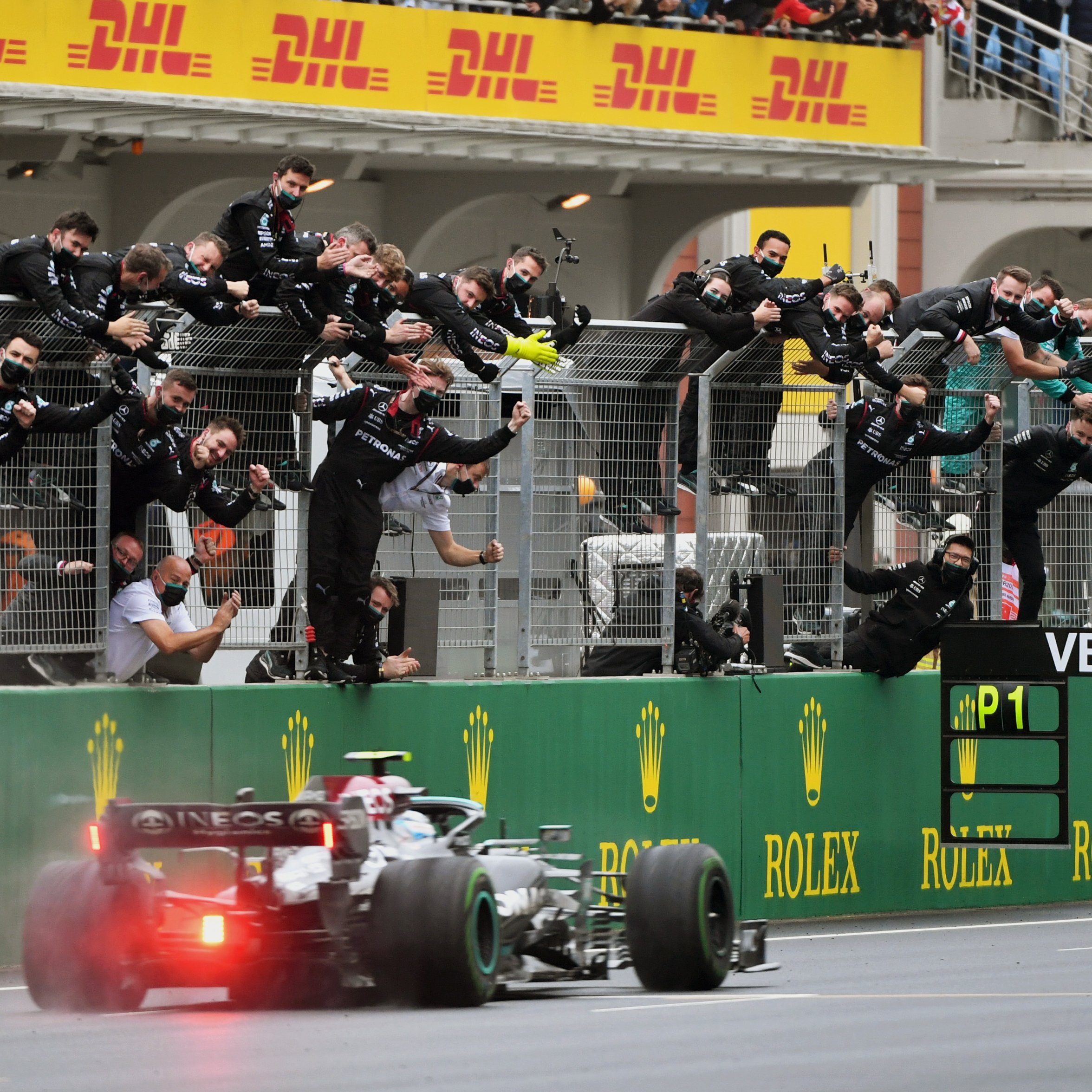 Pole sitter Valtteri Bottas had a dominant performance in wet conditions to claim his first victory of the season and a tenth career triumph at the Turkish Grand Prix in Istanbul on Sunday.
The #77 driver kept the lead until pitting on lap 38, regaining first place eleven laps later with a move on Charles Leclerc. The Ferrari driver, who eventually finished fourth, was still to pit for fresh tires at that moment.
Bottas then set the fastest lap of the race in the very last lap to collect the bonus point awarded for the honour.
The Finn, who will drive for Alfa Romeo next year after spending five years with Mercedes, became the sixth driver to claim a victory this season. The win might become his last for Mercedes or even his last F1 career victory as his next outfit is not expected to contend for races in the short term.
All ten victories of the 32-year-old from Nastola, Finland came with the German team. He joined Mercedes from Williams in 2017 to replace retiring world champion Nico Rosberg.
Championship lead changes hands
Max Verstappen enjoyed a peaceful race to finish second and regain the driver's championship lead. The Dutchman is now six points clear of seven-time world champion Lewis Hamilton, who finished fifth after starting in P11 due to an engine-related grid penalty.
There are six races remaining this season as F1 moves to North and South America for the U.S., Mexico and Brazil races, then to the Middle-Eastern for the events in Qatar, Saudi Arabia and Abu Dhabi, next.
Verstappen complained of steering wheel issues during the race but it didn't seem to affect his performance.
Hamilton gained Fernando Alonso's position at the start after the Spaniard was hit by Piere Gasly and spun. The Briton proceeded to add overtakes on Yuki Tsunoda, Lance Stroll, Lando Norris and Pierre Gasly to show up in the fifth position on lap 15.
The Mercedes driver went long in his first sting with the intermediate tires and wanted to see out the race with no pit stops – something that is not allowed during dry races but can be done in wet conditions.
Hamilton decided not to come into the pits on lap 43 despite his team recommending the move but finally got fresh tires on lap 51 with seven laps to go. He dropped from third to fifth and voiced his disagreement with Mercedes' decision on team radio in the following laps.
He got close enough to try to overtake Leclerc but to no avail. Gasly, who finished sixth despite picking up a five-second penalty for the Alonso incident at the start, had an opportunity to take on Hamilton but the move also didn't happen.
Double podium for Red Bull
Sergio Perez gained four positions during the race to collect his third top-3 of the season and hand a double podium to Red Bull. The Austrian team ran with a one-off white livery to pay homage to Honda, their engine suppliers since the 2019 season.
The Japanese company is leaving F1 at the end of the year as Red Bull prepares to handle its own power units with technology inherited from Honda.
Perez brilliantly defended his fourth place from Hamilton in the 34th lap in a key moment of the Turkish GP.
Sainz DOTD, Stroll in the points, Ocon to the limit
Carlos Sainz Jr. stormed from 19th to P8 in a Driver of the Day-worthy performance filled with beautiful overtakes. Lando Norris finished seventh.
Canadian Lance Stroll added two points to his 2021 campaign by finishing ninth. His Aston Martin teammate, Sebastian Vettel, took a gamble on slick tires on lap 38. The four-time world champion could barely keep control of the car with the dry compound and went back to the pits a lap later to go back to the intermediate tires.
Italian GP winner Esteban Ocon rounded out the top-10 by completing the race with the same tires he started with.
"It's been a while. It feels good," said Bottas after the race. "From my side, that's one of the best races I've had. It's not easy to choose the strategy here in these conditions. It feels like a well-earned victory."
The Red Bull drivers got a double podium for the second time this season as Verstappen won and Perez finished third in the French GP.
"It was not easy today," said Verstappen. "I'm happy to finish second, in these conditions it would have been easy to get it wrong."
"It was just one of those races to be patient," said Perez. "We didn't really know what was going on with the tyres today. It was pretty hard to manage."
Hamilton looks in hindsight
Speaking on Mercedes' decision to pit for fresh intermediate tires, Hamilton said he was "frustrated in himself for not following his gut."
"It felt good to be in third, and I was like, 'If I can just hold on for this, this is a great result from 11th,'" said Hamilton in a post-race interview. "This is worse – but it could be worse.
"I think probably in hindsight, I should have either stayed out or come in much earlier because when you come in with eight laps to go you don't have time to go through the graining phase of that medium tyre on a drying track. So then I went through this whole sliding phase where I nearly lost more positions. So yes, a bit frustrating, but it is what it is," he added.
"My gut feeling was to stay out and I feel that's what I should have done. So I'm frustrated in myself for not following my gut. But I work as a team, so I did the best I could with the advice I was getting."
Read more:
Qatar to fill vacant 2021 season calendar slot, become regular race from 2023 to 2032
What's next for Aston Martin: new F1 factory, state-of-the-art wind tunnel, 2022 car development and more
Aston Martin to retain Canadian Lance Stroll and four-time champion Sebastian Vettel for 2022
Antonio Giovinazzi and Kimi Raikkonen finished in P11 and P12, respectively, taking their Alfa Romeos close to the points. Daniel Ricciardo and Tsunoda followed in 13th and 14th.
Alonso, who was penalized for crashing into Mick Schumacher on lap 1, couldn't capitalize on his P5 starting position and crossed the finish line in P16.
Schumacher, who made it to the Q2 for the first time in his career on Saturday, was only able to finish ahead of his Haas teammate Nikita Mazepin for 19th.
Williams drivers George Russell and Canadian Nicholas Latifi completed the race in 15th and 17th, respectively.
McLaren's Daniel Ricciardo, who opted to add fresh components to his engine and take a grid penalty after only qualifying in 16th on Saturday, finished the race in P13. Tsunoda came right after in 14th.
The 2021 F1 season is back two weeks for the United States Grand Prix at the Circuit of the Americas in Austin Texas.
See the full Turkish GP results:
---
Follow us on social media to stay up to date with our content: Instagram l Twitter l Facebook.